Yes, that is right, FridayFeat over on Twitter just had its 4th week last week (24SEP10), even though last week was my first time posting them here.  This week will have a smaller number of feats because last week was all 3 prior weeks.  I plan to take some time to make sure the feats are a bit better than last week's.  Hopefully they will come closer to balanced and usable by most individuals.
Just as a reminder Adam of
http://twitter.com/blindgeekuk
fame is posting what FridayFeats he can collect, before Twitter archive loses those, on
http://www.leedsdnd.co.uk/
.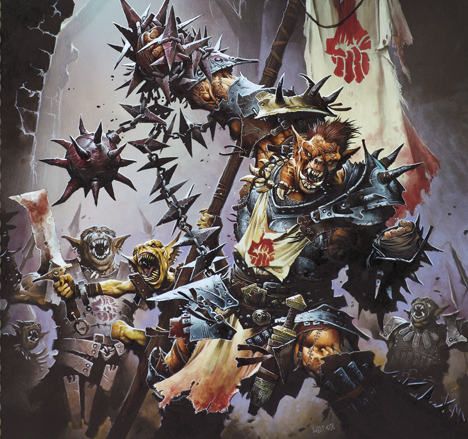 Strategic Leader
Prerequisites: Hobgoblin
As a minor action you may grant surprise of all enemies to all allies, if you succeed in surprising any of your enemies.
Comments: I like Hobgoblins as generals of goblinoid armies and have always felt they were a little short changed on the way of showing how good they are with tactics.  I feel since this will only be available to hobgoblins and the racial power was a little too little, that this would not be too much.  I considered making it available only Hobgoblin leaders, but that seemed overly restrictive.  Additionally Surprise is only available right before the first turn and the Hobgoblin must have surprise against the enemy to grant it to the others, it doesn't seem overpowered, from what I have experienced.

Early Bloomer
Prerequisites: Human
The bonus power you select as your racial feature gains a +1 attack and +2 damage.
Comments: I wrote this one in a vague kind of way because I want Half-elves to be able to take advantage of it also.
Follow The Leader
Prerequisites: Leader
You attack and hit an enemy, each subsequent ally's attacks gains +1 attack, until an enemy hits with an attack or end of your next turn.
Comments: I really want to give a benefit other than just knocking down the monster faster for the characters to gang up on one creature at a time. I also wanted to reinforce the fact that the leader in general is the one who is suppose to be guiding combat, either because of their their combat knowledge, intuition, god or primal spirit leads them to attack the appropriate target.

Get Back
Skill training required: Acrobatics
Encounter
Action: Immediate Interrupt
Trigger: Ally is hit by an attack
Range: Your Speed
You move to your ally's square and slide the ally 1 square, you take the damage meant for them.
Comments: This just seemed like something a heroic character should be able to do at least once per encounter. Now that I have fully expanded this out, I modified it, because it seems more like a skill utility power, instead of an feat.